Pastor Jones: Sisters in Spirit 2
DVD Release:
April 1, 2009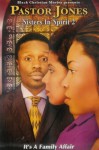 Synopsis
The cast of Pastor Jones: Sister in Spirit is Back! The whole family is back together in this sequel to the original. Pastor Jones discovers that his mentor and spiritual adviser, who has just passed away, is actually his biological father. And that the two sisters who have been vying for his attention are actually his half sisters!
Jones becomes the pastor of his father's church and finds that straightening out family relations as well as his personal life is not the only challenge he'll have to face. Dr. Wilkins, one of the congregation's biggest supporters, seems intent on spending millions to build a new church. The eloquent Pastor Jones puts faith first to triumph over evil.
Dove Review
Pastor Jones takes over the church sooner than expected due to the unexpected passing of Pastor Wright. Pastor Jones and his mother, along with his new found family, Mrs. Wright, Nikki, and Monique, join to help each other heal. But as they heal they become aware of some problems with the plan to expand the church and add a school.
As Pastor Jones refuses to be bullied, Dr. Wilkins and two other investors pull out of the agreement to support the new building plans. So a new plan to get the down payment for the rebuilding project is brought into play by the good Pastor and his sisters.
This movie shows the truth will set you free and if you believe in the Lord, he will always be there for you when needed. This film is gladly awarded our Dove "Family-Approved " Seal.
Info
Company:
Lightyear Entertainment
Producer:
Jean Claude LaMarre; Christina Johnson
Starring:
Jean Claude LaMarre; Christina Johnson; Patricia Hodges; Brittney Conyers; Sid Burston; Lature "Latour" Irvin; Rhobye Wyatt