The Note II: Taking a Chance on Love
Theatrical Release:
January 29, 2009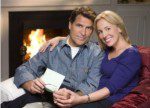 Synopsis
When do you take a chance on love? It's a question columnist Peyton MacGruder (Genie Francis, "General Hospital") asks herself and her readers. Haunted by past mistakes, Peyton hesitates to take the next step with the man she loves (Ted McGinley, "Hope and Faith"). But a note from a reader warns about the regret caused by passion denied. Peyton uncovers the author's secret history involving a doomed romance and a love which may yet live again. The characters created by bestselling novelist Angela Hunt return in a romantic tale of love that just might change your life.
Dove Review
This is a story that makes a person think about his/her own personal relationships over the years. It is a story about how sometimes people are afraid of future love interests because of their past experiences. In being afraid we sometimes need the help from someone else to point out the real problem. This is an endearing movie that shows how mistakes in one's past can prevent the heart from seeing what is right in front of the person now.
This story reflects the fact that sometimes when we make the wrong choices when we are young, the consequences can affect our lives well into the future. We gladly award this movie the Dove "Family-Approved" Seal for 12+.
Info
Company:
Sony Pictures Home Entertainment