Drive Thru History Series: Early American History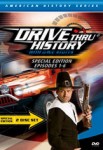 Synopsis
In a fast, fun style of his own, Dave Stotts explores the rich history of early America. Dave takes you on a fast-paced encounter with the people, places and events that shaped our country. His adventures include on-location explorations and loads of high-quality animations that help bring American history to life. As always, Dave includes the Christian influences that made this country great. Join us as we learn the story of Christopher Columbus and follow the Pilgrims from their home in Scrooby, England, across the Atlantic to Plymouth, Massachusetts. We will visit many of the famous, and not so famous, sites from early American history. See first-hand some of the places where our founding fathers risked their lives to shape this great nation. Join us for a journey packed with information and fun as we discover the story behind The United States of America. It will be an adventure you find yourself watching over and over with the kids.
Dove Review
Here is another wonderful "Drive Thru History" series. This collection takes you on great adventures from Columbus to the Revolutionary War. Dave travels to locations in today's modern world and discusses related history topics. You will learn great trivia facts that may not have ever been mentioned in any history book. From the small town in Italy with Columbus to the battles in the Revolutionary War won by George Washington, this series will entertain and educate. It is a fantastic look at people, places and times of early America.
Dave adds a little humor to these educational travels, along with insight to important areas of history. It is just a great collection for educators, history buffs or anyone. History was never this much fun when I was a kid. Dove gladly awards our Dove "Family-Approved" Seal to this DVD.
Info
Company:
Coldwater Media, Inc.
Producer:
ColdWater Media,
Inc.
Industry Rating:
Not Rated