Masterpiece
DVD Release:
March 1, 2009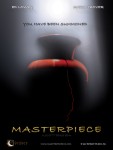 Synopsis
In an age long ago, artisans were summoned by The Master Potter to bring their finest work. From far and wide, many would go to his dwelling, seeking a great commisssion.
This is the universal tale about an unlikely potter who sets out to answer the call. Despite his efforts, his best work is flawed. Now he'll embark on a journey of the heart that will ultimately lead him to discover what it is that the Master truly seeks.
Dove Review
This short video contains a powerful message in its brief running time. A potter puts his work in a kiln and then falls asleep. The cracking sound of his pottery piece is what wakes him up. It had been in the heat too long. As he runs to deliver it to his master, even with a crack in the pot, he falls in his haste and utterly breaks it. He hands a broken piece to his master who takes it and refashions it into something beautiful.
The symbolism in the short feature is nice. Whenever people bring their broken pieces to the master, he fashions something good from their broken lives. The cinematography, music and acting are all nicely done, and most importantly the message is outstanding. We are pleased to award our Dove "Family-Approved" Seal to this DVD for all ages.
Info
Industry Rating:
Not Rated
Reviewer:
Edwin L. Carpenter