Pray 2.5 (Directors Cut)
DVD Release:
June 1, 2009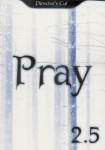 Synopsis
This DVD offers fans a thrilling, fresh look at the "Pray" Franchise! For the first time ever, see the Original "Pray" and "Pray 2: The Woods" combined and re-edited into a single, seamless feature with all new twists and turns! Plus get an exclusive sneak peak of the first minutes of "Pray 3"! This deluxe edition is packed with all new Bonus Features and Surprises including an all-new Alternate Ending to the original "Pray "movie, new scenes, new music and hilarious new outtakes and bloopers! And for the very first time, hear the original campfire story that started it all as told by the director himself! "Pray 2.5″ also includes: Behind the scenes web episodes, free Bible study movie discussion guide, exclusive TV interview with the executive producer and director and a glimpse at the upcoming Cross Shadow movie,"Paranormal"!
Dove Review
This DVD works well with the stories of the "Pray" movie and "Pray 2: The Woods" combined and re-edited into a single DVD movie experience, which even includes the beginning minutes of "Pray 3" at the conclusion! It is a seamless experience.
The film will have you on the edge of your seat as you wait to see what happens to an abducted woman, and if her captor will be captured. There are scenes of desperate prayer and a few miracles take place in the process, including one involving a young woman fleeing in her car from a would-be abductor.
Due to the mature theme of kidnapping, this film is recommended for ages twelve plus, and it is a suspenseful and action-packed experience which will have the viewer waiting with bated breath for what happens next. We are pleased to award our Dove "Family-Approved" Seal to "Pray 2.5".
Info
Company:
Bridgestone Multimedia Group
Writer:
Matt and Amy Mitchell, Tiaan and April Kruger
Industry Rating:
Not Rated
Reviewer:
Edwin L. Carpenter