Adventureland
Theatrical Release:
April 3, 2009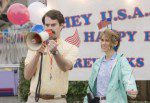 Synopsis
It's the summer of 1987, and James Brennan (Jesse Eisenberg), an uptight recent college grad, can't wait to embark on his dream tour of Europe. But when his parents (Wendie Malick and Jack Gilpin) announce they can no longer subsidize his trip, James has little choice but to take a lowly job at a local amusement park. Forget about German beer, world-famous museums and cute French girls-James' summer will now be populated by belligerent dads, stuffed pandas, and screaming kids high on cotton candy. Lucky for James, what should have been his worst summer ever turns into quite an adventure as he discovers love in the most unlikely place with his captivating co-worker Em (Kristen Stewart), and learns to loosen up.
Dove Review
Effective January 1st, 2009, The Dove Foundation Review Team has ceased reviewing all NC-17 rated movies and certain extraordinarily explicit R-rated films. This decision was reached due to the fact that Dove reviewers are parents or grandparents with conservative values. As such, we feel that we can no longer expose these dedicated and caring people to movies that contain distasteful and appalling stories that are focused on graphic horror and violence, and/or gratuitous depictions of explicit sex and nudity.
"Adventureland" is considered to be such a film. Our report is therefore limited to the business information (title, rating, distributor, producer, director, actors, etc), synopsis, and the content chart.
Content Description
Please see our content chart above.
Info
Company:
Miramax Pictures
Reviewer:
Edwin L. Carpenter