Bibleman Genesis Silencing the Gossip Queen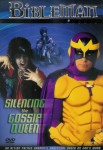 Synopsis
The evil bitterness beams of the Gossip Queen batter Bibleman when he tries to protect the church kids group from her dismantling effects. Her scheme is almost successful, but Bibleman unveils a weapon that he hopes will mute the mouthy and menacing queen once and for all!
Dove Review
This episode of "Bibleman" begins with a note of gossip being handed around in a classroom setting. The Gossip Queen comes into the picture and plots to divide and conquer by using vicious gossip against Christians in this adventure episode. The division begins among the kids but Bibleman soon picks up on the pernicious plot.
Although the Gossip Queen shoots energy bolts at Bibleman, and he is knocked down, rest assured that once he relies on scripture the situation quickly changes. He also must fight a demon who is in the form of a man. Some bad characters are evaporated in this episode. This program will have the kids cheering for Bibleman to emerge victorious. We gladly award this DVD our Dove Seal.
Info
Industry Rating:
Not Rated
Reviewer:
Edwin L. Carpenter