The Legend of the Three Trees
Theatrical Release:
January 1, 2000
DVD Release:
January 1, 2000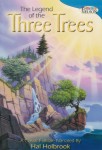 Synopsis
A timeless retelling of the classic folktale of three trees, each with hopes, dreams and aspirations. We follow a beautiful olive tree blossoming in the valley, a knotty oak tree clinging to the shore and a strong pine standing high on the mountainside. They each dreamed of becoming great – perhaps a majestic treasure chest, or a magnificent sailing ship, or perhaps the tallest tree in the forest.
But their dreams didn't seem to come true. Disappointed and dejected, the trees despair about their existence until they each finally interact, in their own unique ways with Jesus Christ in His birth, ministry, and ultimate sacrifice. In these experiences, they learn that God has a special purpose for each of them in His kingdom.
Dove Review
In the beginning God created the earth with seeds. He made some into grass and some into trees. From the tree group there were three trees that were made with a purpose-an olive Tree, oak Tree, and a pine tree. This story originally created from a folktale tells how each tree played a part in the life of Jesus. A cute and fun story that will interest children of God's plan for each one of us, this DVD is awarded our Dove Seal.
Info
Starring:
Narrated by Hal Holbrook, Songs by: Marilyn McCoo and Andy Chrisman of 4HIM