Cowboy Dans Frontier
DVD Release:
April 1, 2009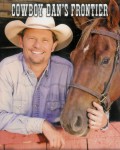 Synopsis
Welcome to Cowboy Dan's Frontier…this is a program that helps children 10 and under understand the importance of always learning something new everyday through fun stories and music. Cowboy Dan treats children as if they are people too. There is no animation or anything "cutesy" about Cowboy Dan's Frontier. It's a program that teaches children that adults can be your friends. Dan's Love for children comes from the fact that he is raising children of his own and remains a bit of a kid himself. Come visit him and his trusty horse Biscuit, in their world.
Dove Review
Cowboy Dan tells wonderful stories, sings great songs, and tells how God wants to help us build a strong religious foundation in our lives. Meet Cowboy Dan's friend David, who builds houses and shows how their foundations are compared to life. As Cowboy Dan teaches your children about life, he also tells a word of the day along with its meaning. Children of all ages will enjoy this entertaining and educational DVD as they watch Cowboy Dan, his horse Biscuit and their friends. A fun and upbeat show for the entire family, this program is awarded our Dove "Family-Approved" Seal.
Info
Company:
Wesscott Marketing Inc
Industry Rating:
Not Rated