17 Again
Theatrical Release:
April 17, 2009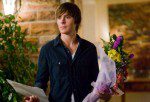 Synopsis
A former high school basketball star gets a second shot at life when he's miraculously transformed into a teenager and offered the opportunity to redefine his future. Back in 1989, Mike O' Donnell (Matthew Perry) had it all; not only was the seventeen year old senior the king of the basketball court, but college scouts were circling as well. But just as Mike's future began to glow brighter than ever before, he sacrificed everything in order to stay by his expectant girlfriend Scarlett and be a good father. Nearly twenty years later Mike has just been passed over for a big promotion at work, his marriage is failing, and his teenage kids can't stand him. His dreams long gone and his family falling apart, Mike takes to staying with his best friend Ned (Thomas Lennon), a former high school geek turned techno billionaire. Then, seemingly out of nowhere, Mike is transported back into his teenage body and given the given the unique opportunity to relive his salad days. But while Mike may look seventeen again, his thirty-something outlook at life puts him hopelessly at odds with the class of 2009.
Dove Review
Zac Efron does a credible job playing a seventeen year old boy who is really twenty years older and thinks like a thirty seven year old. The film manages to convey some real humor such as Zac's character of Mike O' Donnell badly getting the munchies and eating food like it's in short supply. Anyone who has ever seen teen boys eat will appreciate the humor.
The premise is intriguing as it involves O' Donnell facing a divorce from his wife Scarlett (Leslie Mann) because he has pretty much ignored her for the past twenty years, after he learned she was pregnant in high school and he chose to marry her rather than choose a path to become a very successful basketball star. Given a chance to go back to the age of seventeen and to attend his high school in the present, he soon learns that becoming a basketball star is not his dream after all, but to help out his two kids when he sees the problems they are going through in high school, and to win back the heart of his wife.
The film obviously presents some humorous moments, and a nice scene in which young Mike (really old Mike in a seventeen year old's body) encourages his high school class to remain abstinant and to wait for marriage in order to have sex. Still, there are a couple of cases of sex outside of marriage in the film in addition to some strong language. We therefore are unable to award this movie our Dove "Family-Approved" Seal.
Info
Reviewer:
Edwin L. Carpenter