The Snurks
Theatrical Release:
April 18, 2004
DVD Release:
September 20, 2005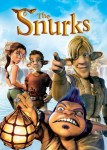 Synopsis
Gaya, a fantastic and beautiful world beyond our reality is in danger when the powerful Charmed Stone vanishes. No one knows who took the magic stone or why. In order to solve the mystery, two heroes, Boo and Zino, along with their rivals, the Snurks and the beautiful Alanta, are given a task of discovering the truth behind the the stone's disappearance. The search takes our tiny heroes to a big world where they only have one night to find the stone and save their endangered world of Gaya.
Dove Review
It always amazes me what creators can do with animation today. "The Snurks" animation will awe the viewer and reveal what can be created in the movies. Although this one was created in Germany in 2005, every look or movement looks so real. But as for the storyline and comedy it is somewhat lacking. The characters from a fictional TV show come to life and get to meet their maker. I am not sure what age audience the producers of this movie were aiming for, whether it was young or old. The movie can reach both.
There are some lessons to learn, for example sometimes you have to work together with others you don't care for, revenge is not a good thing, and the effects of free will. But we recommend the DVD for ages 12 and over due to some content in this movie. "The Snurks" is awarded our Dove "Family-Approved" Seal for 12+.
Content Description
Nudity:
A toy doll shown without clothes; cleavage; character with tight clothing and bare waist; man with piercings and tattoos in vest type shirt.
Info
Company:
First Look Studios