X-Men Origins: Wolverine
Theatrical Release:
May 1, 2009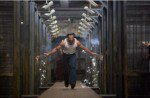 Synopsis
Using several resources that include the Marvel Comics lore, along with the more recent Weapon X graphic novels by Frank Miller, "Wolverine" mixes action with an origin story about how Logan emerged from a barbaric experiment as an indestructible mutant with retractable razor-sharp claws.
Dove Review
Here we have the origins of Logan, also known as "Wolverine". He starts out with claws but by film's end they are metal claws and much more powerful. A lot happens on the way there. When it appears that someone he loves has been purposely murdered, he vows revenge. An old farmer he meets in the story tells him he always has a choice whether or not to shed blood. By story's end he must decide if he will kill in revenge or let his opponent live.
Although the story deals with some good topics such as making right choices, and loyalty, it also is filled with violence and strong language. We therefore cannot recommend this movie as a family-friendly film and we are unable to award our Dove Seal to the movie.
Info
Company:
20th Century Fox
Writer:
David Benioff and Skip Woods
Reviewer:
Edwin L. Carpenter