Once Upon A Time in the West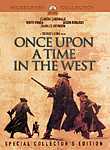 Synopsis
This Sergio Leone classic, a tribute to Hollywood Westerns, stars Henry Fonda as Frank, a gunslinger hired by the powerful owner of a railroad conglomerate to kill anyone who derails the project. But Frank contends with the wrong person when he murders Brett (Frank Wolff), a landowner; after his death, Brett's wife (Claudia Cardinale) demands revenge, hiring two renegades (Charles Bronson and Jason Robards) to go after Frank.
Dove Review
Henry Fonda does something unusual in this film and that's play a bad guy, a man who murders a family of four in cold blood: a widower-father (who waits for his new bride to arrive), his daughter and two sons. Fonda plays the villain Frank fantastically and he reminds you of someone who is meaner than a junkyard dog. Charles Bronson plays Harmonica, a man who plays his harmonica often and seems to be carrying a secret. In addition, Jason Robards plays Cheyenne, a man who winds up helping out Harmonica when he needs it. The cast is very talented and includes Claudia Cardinale as Jill McBain, the woman who was arriving for a new life with the widower McBain, only to find his corpse has been lined up with his three children.
This is a gritty and grimy western and it gets down in the dirt with realism. Unfortunately, it includes a lot of violence and a few sexual scenes which are not conducive to family viewing. There is constant drinking in the movie too. We are therefore unable to award our Dove "Family-Approved" Seal to this film.
Info
Company:
Paramount Home Entertainment
Starring:
Henry Fonda Claudia Cardinale Jason Robards Charles Bronson Gabriele Ferzetti Paolo Stoppa Woody Strode Jack Elam Keenan Wynn Frank Wolff Lionel Stander
Reviewer:
Edwin L. Carpenter