Pahappahooey Island: Do It Afraid
DVD Release:
September 22, 2009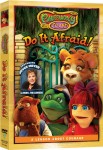 Synopsis
Welcome to Pahappahooey Island, an adventurous land that features furry friends, fun songs and colorful adventures with the best of Joyce Meyer's classic messages for the whole family.
Do It Afraid – Ali and her friends are on a daring quest to discover lost treasure and rescue Miss Rudy. But along the way, they must face their greatest fears – whether it's a mob of clucking chickens, singing karaoke, or just being alone. In the end, the friends heed the advice of Miss Rudy as they stand up to their fears.
Never Alone! – When the gang sets out on a camping trip, they fear that someone or something could be following close behind. Could it be the dreaded "ravioli-eating Sasquatch"? Join Ali and her friends as they discover the key to overcoming life's greatest fears…even when they feel alone.
Dove Review
Pahappahooey is always so much fun to watch. These cute puppets take the viewer on an adventure of learning that is fantastic fun. In these episodes the viewer learns to deal with fear and how God (the Creator) is always with you no matter what. This is great for children as they will enjoy the wonderful songs and the great adventures while learning about not being afraid of being alone or of specific things in their lives. Everyone will love the Island and the colorful group of friends. Dove is proud to award "Pahappahooey Island: Do It Afraid" our Dove "Family-Approved" Seal.
Info
Company:
Anchor Bay Entertainment
Industry Rating:
Not Rated