Julie and Julia
Theatrical Release:
August 7, 2009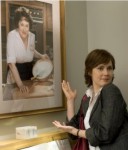 Synopsis
Based on Julie Powell's book "Julie and Julia: 365 Days, 524 Recipes, 1 Tiny Apartment Kitchen." Julie Powell recounts how she conquered every recipe in Julia Child's Mastering the Art of French Cooking and saved her soul. Julie Powell is 30-years-old, living in a rundown apartment in Queens and working at a soul-sucking secretarial job that's going nowhere. She needs something to break the monotony of her life, and she invents a deranged assignment. She will take her mother's dog-eared copy of Julia Child's 1961 classic Mastering the Art of French Cooking, and she will cook all 524 recipes. In the span of one year.
At first she thinks it will be easy. But as she moves from the simple Potage Parmentier (potato soup) into the more complicated realm of aspics and crepes, she realizes there's more to Mastering the Art of French Cooking than meets the eye. With Julia's stern warble always in her ear, Julie haunts the local butcher, buying kidneys and sweetbreads. She sends her husband on late-night runs for yet more butter and rarely serves dinner before midnight. She discovers how to mold the perfect Orange Bavarian, the trick to extracting marrow from bone, and the intense pleasure of eating liver. And somewhere along the line she realizes she has turned her kitchen into a miracle of creation and cuisine. She has eclipsed her life's ordinariness through spectacular humor, hysteria, and perseverance.
Dove Review
This film just missed receiving our Dove Seal due to the utterance of the dreaded F bomb and a strong sexual comment. It's too bad this word and a sexual slang was included as the film could have been awarded our Seal for ages twelve plus. It definitely has its funny moments, including a cooking scene in which a character says to stuff the hen until it can't take it anymore. Meryl Streep is quite funny as the over-the-top Julia Child, the famous cook who had her own TV show, wrote a book, and was determined to teach French cooking to Americans. Also quite good is Amy Adams who plays Julie, the young woman who decides she needs to finish something in her life, so she undertakes to make all of Julia Child's recipes from her book in one year, while blogging to anyone who cares to hear about it every day. Julie imitates Julia at one point, which is quite funny too. The movie includes both humor and romance, such as when a husband tells his wife as she is toasted on her birthday that she is the butter to his bread, and the breath to his life.
The male character who dresses in drag on TV and impersonates Julia in the kitchen is another example of the humor in the movie. He acts as if he cuts his finger and there is a lot of fake blood, something which, depending on one's sense of humor, would elicit laughter from some viewers and did from members of the audience I screened the film with. Regrettably, with the two strong utterances of language, we are unable to award our Seal to this movie as a family-friendly film.
Info
Company:
Columbia Tri-Star Pictures
Writer:
Nora Ephron and Julie Powell
Reviewer:
Edwin L. Carpenter