The Goods: Live Hard, Sell Hard
Theatrical Release:
August 14, 2009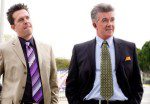 Synopsis
Who is Don Ready? Salesman? Lover? Song Stylist? Semi-professional dolphin trainer? Ready is all of the above, except for a dolphin trainer. When he's asked to help save an ailing local car dealership from bankruptcy, Ready and his ragtag crew descend on the town of Temecula like a pack of coyotes on a basket full of burgers. Selling, drinking, selling and going to strip clubs is their stock and trade. And they do it well. What Don doesn't expect is to fall in love and find his soul (cue heartfelt piano).
Dove Review
Effective January 1st, 2009, The Dove Foundation Review Team has ceased reviewing all NC-17 rated movies and certain extraordinarily explicit R-rated films. This decision was reached due to the fact that Dove reviewers are parents or grandparents with conservative values. As such, we feel that we can no longer expose these dedicated and caring people to movies that contain distasteful and appalling stories that are focused on graphic horror and violence, and/or gratuitous depictions of explicit sex and nudity.
"The Goods: Live Hard, Sell Hard" is considered to be such a film. Our report is therefore limited to the business information (title, rating, distributor, producer, director, actors, etc), synopsis, and the content chart.
Info
Company:
Paramount Vantage
Writer:
Andy Stock and Rick Stempson
Reviewer:
Edwin L. Carpenter