Post Grad
Theatrical Release:
August 21, 2009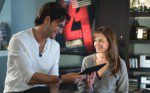 Synopsis
Ryden Malby (Bledel) had a plan. Do well in high school, thereby receiving a great college scholarship. Now that she's finally graduated, it's time for her to find a gorgeous loft apartment and land her dream job at the city's best publishing house. But when Jessica Bard (Reitman), Ryden's college nemesis steals her perfect job, Ryden is forced to move back to her childhood home. Stuck with her eccentric family – a stubborn do-it-yourself dad (Keaton), an overly thrifty mom (Lynch), a politically incorrect grandma (Burnett), a very odd little brother (Coleman) – and a growing stack of rejected job applications, Ryden starts to feel like she's going nowhere. The only upside is spending time with her best friend, Adam (Zach Gilford) – and running into her hot next-door neighbor, David (Santoro). But if Ryden's going to survive life as a post grad, it may be time to come up with a new plan…
Dove Review
This comedy features some well known actors including Michael Keaton and Carol Burnett, who plays a politically incorrect grandmother. They offer some humorous moments with Keaton's role being that of a stubborn father who has to be in control and do everything himself. The eccentric family includes behavior that all families can relate to and the post grad life is also a topic viewers can appreciate in the film.
Despite some good themes such as dealing with a move back home for a young adult, there are a few frank sexual comments along with some strong language which prevents us from awarding our Dove "Family-Approved" Seal to this movie as a family-friendly film.
Info
Company:
Fox Searchlight Pictures
Reviewer:
Edwin L. Carpenter