Extract
Theatrical Release:
September 4, 2009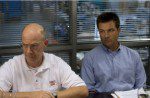 Synopsis
Jason Bateman, Mila Kunis, Ben Affleck, Kristen Wiig, Clifton Collins, and J.K. Simmons star in writer/director Mike Judge's comedy about a flower-extract plant owner contending with an ever-growing avalanche of personal and professional disasters. An employee at the factory has just suffered an unfortunate accident on the assembly line, but little does the put-upon owner realize that things are about to get much worse. As the injured employee threatens to sue and it begins to look like his company will be bought out, the frazzled owner attempts to catch the culprit responsible for stealing wallets from the coat room and begins to suspect that his wife is sleeping with the gigolo he hired to seduce her.
Dove Review
Effective January 1st, 2009, The Dove Foundation Review Team has ceased reviewing all NC-17 rated movies and certain extraordinarily explicit R-rated films. This decision was reached due to the fact that Dove reviewers are parents or grandparents with conservative values. As such, we feel that we can no longer expose these dedicated and caring people to movies that contain distasteful and appalling stories that are focused on graphic horror and violence, and/or gratuitous depictions of explicit sex and nudity.
"Extract" is considered to be such a film. Our report is therefore limited to the business information (title, rating, distributor, producer, director, actors, etc), synopsis, and the content chart.
Info
Company:
Miramax Pictures
Reviewer:
Edwin L. Carpenter