The Informant
Theatrical Release:
September 18, 2009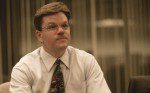 Synopsis
What was Mark Whitacre thinking? A rising star at agri-industry giant Archer Daniels Midland (ADM), Whitacre suddenly turns whistle blower. Even as he exposes his company's multi-national price-fixing conspiracy to the FBI, Whitacre envisions himself being hailed as a hero of the common man and handed a promotion. But before all that can happen, the FBI needs evidence, so Whitacre eagerly agrees to wear a wire and carry a hidden tape recorder in his briefcase, imagining himself as a kind of de facto secret agent. Unfortunately for the FBI, their lead witness hasn't been quite so forthcoming about helping himself to the corporate coffers. Whitacre's ever-changing account frustrates the agents and threatens the case against ADM as it becomes almost impossible to decipher what is real and what is the product of Whitacre's rambling imagination. The film is based on the true story of the highest-ranking corporate whistle blower in U.S. history.
Dove Review
This is a film about one man's deceit to get to the top of the corporate ladder by taking the top men down. Mark Whitacre is a compulsive liar who gets caught up in his own misdeeds. The story is based on a 1990s FBI investigation of price fixing in a Lysine company where a junior executive, Mark Whitacre, helps them for three years to get evidence. But unknown to the FBI Agent Shepard, Mark is fixing the information that will make things look like the activities are really taking place and in the mean time he is part of the fraud by embezzling millions for himself.
This movie is interesting to say the least. There are not great chase scenes (a nice change from many movies), sexual activity or even guns fired, just a man that is so caught up in his own lies that even the FBI and government believe him for awhile. But due to the language in this movie, it cannot be family-approved by Dove and cannot receive our Seal.
Info
Writer:
Scott Z. Burns and Kurt Eichenwald