Effective Stewardship
DVD Release:
October 1, 2009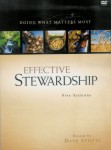 Synopsis
If you are a pastor, teaching about money and stewardship can be awkward since some Christians view the subject as little more than a strategy for boosting contributions on Sunday morning. But as these five lessons make clear, Christian stewardship is about more than the money we drop into the collection plate.
Stewardship extends to our talents, to the environment, to church and family, to our fellow man, and yes, to the money in our bank accounts. Stewardship, as the saying goes, is everything we do after we say we believe.
Dove Review
This is a terrific DVD. It breaks stewardship down to five main areas: 1. Talents and Skills. 2. The Environment. 3. Loving our Neighbor. 4. Church and Family and important Institutions. 5. Finances and Giving.
A variety of ministers and professional people share what they believe is the biblical way to honor God with what He has given us. He has given us charge and dominion over many things. We are, in effect, handling God's stuff as one man puts it.
Several scriptural references are given and this DVD shines in the respect that other areas other than giving alone are featured as important matters in the area of stewardship. The DVD incorporates great visuals and is enlightening. We highly recommend it. It is awarded our Dove Seal for all ages but we realize it might be a bit heady for children. Still, it is an easy-to-understand and solid program on being an effective steward and getting the most out of what God has given us.
Info
Producer:
James Fitzgerald, Jr.
Industry Rating:
Not Rated
Reviewer:
Edwin L. Carpenter