Law Abiding Citizen
Theatrical Release:
October 16, 2009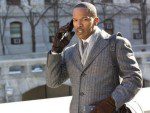 Synopsis
"Law Abiding Citizen" follows a successful assistant D.A. (Butler) who finds himself at the center of a vigilante plot hatched by a traumatized victim of the legal system (Foxx). Foxx's character is devastated to learn that, because of a plea bargain, one of his wife and daughter's murderers will be set free. So he unleashes revenge on the killers and those who made the deal.
Dove Review
Effective January 1st, 2009, The Dove Foundation Review Team has ceased reviewing all NC-17 rated movies and certain extraordinarily explicit R-rated films. This decision was reached due to the fact that Dove reviewers are parents or grandparents with conservative values. As such, we feel that we can no longer expose these dedicated and caring people to movies that contain distasteful and appalling stories that are focused on graphic horror and violence, and/or gratuitous depictions of explicit sex and nudity.
"Law Abiding Citizen" is considered to be such a film. Our report is therefore limited to the business information (title, rating, distributor, producer, director, actors, etc), synopsis, and the content chart.
Info
Reviewer:
Edwin L. Carpenter