Minor Details
DVD Release:
October 13, 2009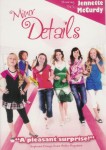 Synopsis
Someone's trying to make the students sick at the upscale boarding school, Danforth Academy! Abby, Paige, Claire and Taylor, join forces to solve the mystery. Could it be Mia or Riley – the girls who have everything that money can buy? Or Emily, the know-it-all principal's daughter? Maybe it's the wacky Sean Niminskie? Or the school's strange Professor Plume. Whoever it is, the four best friends are going to find out!
Dove Review
This DVD is a comical story about a group of boarding school kids that are involved in a mystery that they want to solve. It features a young age group and alludes to the fact making friends and looking at others around you may be difficult. This group has its dramas within regarding jealousy, rudeness and disrespect for one another until they learn the truth about each other and work together to solve a mystery.
Aimed at the young teen age group, this DVD will make you laugh at times at some of the zany characters that make up this school. But it also shows the importance of how kids that age should treat others in their school, along with the lesson that getting back at others is not a good idea. Putting drugs of any kind in someone's food or drink is not an acceptable action for any age and is a topic that should be discussed. This is a charming funny mystery that will be enjoyed by the entire family. We award the Dove "Family-Approved" Seal for all ages to this DVD.
Info
Company:
SunWorld Pictures