Christmas Carol, Disneys A
Theatrical Release:
November 6, 2009
DVD Release:
November 16, 2010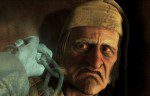 Synopsis
"Disney's A Christmas Carol," a multi-sensory thrill ride re-envisioned by Academy Award®-winning filmmaker Robert Zemeckis, captures the fantastical essence of the classic Dickens tale in a groundbreaking 3-D motion picture event.
Ebenezer Scrooge (Jim Carrey) begins the Christmas holiday with his usual miserly contempt, barking at his faithful clerk (Gary Oldman) and his cheery nephew (Colin Firth). But when the ghosts of Christmas Past, Present and Yet to Come take him on an eye-opening journey revealing truths Old Scrooge is reluctant to face, he must open his heart to undo years of ill will before it's too late.
Dove Review
This movie is no bah, humbug! It is a pretty faithful telling of Charles Dickens' classic novel, and the 3-D and animation is fabulous. Jim Carey shows some true versatility as he lends his voice not only to Scrooge, but to several characters including the Ghost of Christmas Past, Christmas Present and Christmas Yet to Come. Scrooge is at his meanest early in the movie. For example, the mere sight of Scrooge results in a guide dog leading a blind man down a city street then changing direction down an alley in order to avoid Scrooge! The film visually embellishes a few scenes, including the candle snuffer containing the light of truth propelling Scrooge to the moon. But it is rather comical to see him glide past the moon, reaching for something to hold onto when only thin air is available. He also winds up as a shrunken Scrooge near the conclusion of the movie, ending up in the assortment of bed clothes a woman brings from the home of the futuristic deceased Ebenezer Scrooge. He is privy to her conversation as she attempts to make a bargain with a man who is interested in purchasing the items from her. Not to worry though, as he is soon returned to normal size.
This film includes Dickens' classic themes of the miserly Scrooge and his lack of pity and compassion on the poor, only to emerge as a changed man as he faces the death of Tiny Tim, his poor father's (Bob Cratchit) remorse, and views his own tombstone after hearing jokes about his death, including a businessman saying he will only attend the funeral if he is fed.
The film includes a few scenes which might prove frightening to young children, such as the red eyed ghostly horses which race down city streets, and several ghostly images including Jacob Marley, who is a ghastly as well as ghostly apparition. We recommend this movie for ages twelve and above, while acknowledging that some children under that age might be fine viewing the film if they are not easily frightened. This animated adventure and classic tale is a feast for the eyes! Get in the holiday spirit now and go see "A Christmas Carol" before you dot another "i" Bob Cratchit!
Info
Writer:
Charles Dickens and Robert Zemeckis
Reviewer:
Edwin L. Carpenter