In the Blink of an Eye
DVD Release:
November 25, 2009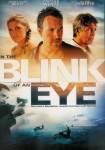 Synopsis
What was suppose to be the perfect vacation comes to a horrific crossroad for Detective Ramsey (David A R White) Aboard a private yacht on the shimmering Sea of Cortez, his wife and friends suddenly disappear.
During the investigation David's Captain (Eric Roberts) discovers a link between underworld crimes, the boat captian and its owner. Just as David begins to unravel the mystery, he is shocked to wake up and find out it was just a nightmare, or was it?
Caught in a recurring turmoil of knowing tragedy is about to happen, he is powerless to stop it. As the day repeats, David unravels the evidence surrounding a worldwide Nostradamus event revealed in ancient Biblical prophecies of an impending apocalypse. Now David fights against unseen forces desperate to uncover the truth before time runs out.
Dove Review
This story focuses on being ready for the Lord's return and primarily features characters David and Lori (husband and wife team David A.R. White and Andrea Logan White). In the story Lori becomes a Christian who is ready to meet the Lord but David, her husband, has been resisting. He focuses on his detective and police work and when he takes a long awaited vacation with Lori he can't seem to stay away from talking with his boss (Eric Roberts). He begins to have dreams which vividly seem real and in each one Lori leaves him and he panics each time, not knowing what has become of her. When some Christian friends (Who are along on the boat trip) witness to him, he doesn't want to hear it…at first. But he soon believes there is something to the dreams and that he is not ready to meet the Lord.
This movie is entertaining, with a few fights and police work thrown in to boot. It is also a bit of a mystery as the viewer must wait to learn what is happening when David first believes Lori is coming up missing, and when he struggles with what he should do regarding Lori's Christian beliefs.
"In the Blink of an Eye" fortunately takes more time than the blink of an eye for the plot and character development, and we happily recommend it for viewers twelve and above, due to some violence. In one scene a woman is shot and blood is seen on a wall. It is realistic looking but brief and doesn't cross our violence level of three, which would disqualify it from being awarded our Dove Seal. There are some mature themes in the movie. However, this is an important Christian film and definitely worth seeing.
Info
Industry Rating:
Not Rated
Reviewer:
Edwin L. Carpenter