Invictus
Theatrical Release:
December 11, 2009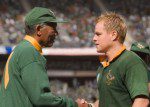 Synopsis
The film tells the inspiring true story of how Nelson Mandela joined forces with the captain of South Africa's rugby team to help unite their country. Newly elected President Mandela knows his nation remains racially and economically divided in the wake of apartheid. Believing he can bring his people together through the universal language of sport, Mandela rallies South Africa's underdog rugby team as they make an unlikely run to the 1995 World Cup Championship match.
Dove Review
This is an inspiring film. Nelson Mandela, played by Morgan Freeman, is portrayed as not only a man who understood people and the need for forgiveness, but also was a pretty good judge of finding successful ways to forge common ground with people, even with those who had formerly opposed one another. In this case, rugby is the sport which helps unite a country. Mandela calls on the captain of the South African team (Matt Damon) to rally the team to excellence.
The themes of unity, forgiveness and perseverance in this movie are to be commended. Unfortunately, it is strong language which regrettably prevents us from awarding our Dove "Family-Approved" Seal to this film. It is unfortunate, as it is a true and inspiring story of South Africa's rugby team which, despite all of the odds, makes a legitimate run toward the 1995 World Cup championship.
Info
Writer:
Anthony Peckham and John Carlin
Reviewer:
Edwin L. Carpenter