Did You Hear about the Morgans
Theatrical Release:
December 18, 2009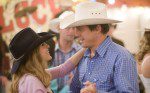 Synopsis
A bickering New York couple on the verge of divorce attempt to salvage their marriage after witnessing a murder and being relocated to Wyoming under the Witness Protection Plan. Meryl and Paul Morgan (Sarah Jessica Parker and Hugh Grant) have all the money a couple could want. It's love they're running short on. Upon witnessing a contract killing and being targeted by the trigger man, the couple find themselves at the mercy of the feds, who hastily send them packing for an extended stay in the Rockies. Could a peaceful life away from the city be just the thing to bring Meryl and Paul back together, or will the deafening silence of nature only serve to amplify the bickering couple's painful peccadillos and drive them further apart than ever before? Sam Elliott, Mary Steenburgen, and Wilford Brimley co-star in a comedy from writer/director Marc Lawrence (Miss Congeniality, Music and Lyrics).
Dove Review
This film is a near miss in receiving our Dove Seal like so many other films Dove has reviewed over the years. Except for a few frank sexual comments including comments about past affairs, and also a bit of strong language, the movie could have been dubbed "family friendly" by us. The movie includes a likable cast (Hugh Grant, Sam Elliott and Mary Steenburgen to name a few) and it does feature a few genuine chuckle moments.
The plot is pretty basic. A separated couple witnesses a murder and is placed in the witness relocation program. They move to Wyoming from New York and must not only deal with their problems, but life in a small rural community after living in a major city. It is a bit of culture shock for sure.
At any rate, due to the content issues listed below we are unable to award our Dove "Family-Approved" Seal to the movie.
Info
Company:
Columbia Tri-Star Pictures
Reviewer:
Edwin L. Carpenter