Desires of the Heart
Theatrical Release:
August 9, 2010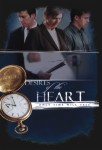 Synopsis
Twin brothers Ethan and Jack seem to be in constant competition with one another…each seeking favoritism from their father, Ike. Both desire the family business, The Abrams Group, and a precious family heirloom. Ethan, athletic and charismatic, always seems to get his way. Jack is both studious and responsible, but has to work hard for his accomplishments. When Ike is stricken with cancer, he must confirm once and for all which child will inherit his legacy. An irreversible decision is made by their mother that damages the very fabric of their family. Ethan finds he must confront the choices of the past and hurt and anger that poison his spirit. If he succeeds, he will discover the power that forgiveness holds..only time will tell.
Dove Review
This inspiring story is an allegory of Jacob and Esau's story from the Bible. Set in modern time, it tells of twin brothers that both want their father's affection and love. One son, Ethan, is like his father when it comes to sports and has great athletic abilities while the other, Jack, is more of the book type. So when their Dad becomes ill, their Mom takes things into her own hands and changes his will which has an effect on everyone's lives.
This is a faith influenced story about how the choices people make affect themselves along with the others around them and the power of forgiveness. We award this movie the Dove "Family-Approved" Seal for ages 12 and older.
Info
Company:
R-Squared Productions
Starring:
Dodie Brown
,
Parker Dash
,
Tammi Arender
,
Hevin Hampton
,
Kip Cummings
,
Max Jenkins
,
Cameron Wofford
,
Bob Collier
,
James Adamitis
,
Martin Navarro
,
Cheryl Wicker