Crazy Heart
Theatrical Release:
February 12, 2010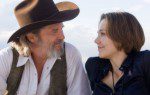 Synopsis
Four-time Academy Award® nominee Jeff Bridges stars as the richly comic, semi-tragic romantic anti-hero Bad Blake in the debut feature film "Crazy Heart" from writer-director Scott Cooper. Bad Blake is a broken-down, hard-living country music singer who's had way too many marriages, far too many years on the road and one too many drinks way too many times. And yet, Bad can't help but reach for salvation with the help of Jean (Maggie Gyllenhaal), a journalist who discovers the real man behind the musician. As he struggles down the road of redemption, Bad learns the hard way just how tough life can be on one man's crazy heart.
Dove Review
Jeff Bridges gives a fantastic performance as a man who is battling the bottle. "Bad Blake" as he is called constantly smokes too and is a bit stubborn, but he is also likable. His many fans love him and ask him to perform their favorite songs as he travels from one small stop (such as at a bowling alley/bar) to another. In Santa Fe he meets a young woman and reporter named Jane (Maggie Gyllenhaal) who wants to interview him. She is charming with a good sense of humor and she finds him to be the same way. Soon Blake begins to enjoy life again, but continues his dangerous habit of constant drinking and smoking. When an incident occurs which places fear in everyone, including Blake himself, he finds himself at a crossroads and must decide if he will turn his back on the booze, or plunge deeper into the abyss he has been residing in.
Due to very strong language in this film, in addition to sex between an unmarried couple and the strong use of alcohol in the film, as well as the smoking of a marijuana cigarette, we are unable to award our Dove Seal to this movie.
Info
Company:
Fox Searchlight Pictures
Writer:
Scott Cooper & Thomas Cobb
Reviewer:
Edwin L. Carpenter