The Bible Stories: Esther
DVD Release:
March 2, 2010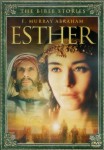 Synopsis
As a girl living under Persian rule, Esther was kidnapped and taken into the harem of the king. The king, taken by her beauty, made her his queen, and she found herself involved in a delicate balancing act between the ruling Persians and her own Jewish people. The king's chief minister hoped to see the Jews annihilated, but thanks to Esther's intercession the Jews were able to destroy their enemies.
Dove Review
This is a well done production and telling of the story of Esther from the Bible. Louise Lombard plays the lead role exceptionally well with the right mixture of humility, kindness and leadership which make up this queen, chosen by King Ahasuerus himself (Thomas Kretschman). Also quite good is F. Murray Abraham as Mordecai, Esther's kinsman and servant of God who plays a huge part in the story.
For those un-initiated with this biblical story, the king of Persia vanquishes his queen whom he no longer cares for, Queen Vashti. Virgins from all around the kingdom are trained in proper etiquette and brought before him. Among them is Esther who is a Jew and, with her unassuming ways and kind heart, wins the king's love and marriage and becomes the new queen of Persia. A ruthless man named Haman, who hates Mordecai and all the Jews, begins to plot their demise. When it appears he is about to succeed, Mordecai petitions Esther to go before the king to plead for mercy. As he says, perhaps she was given this position for such a time as this. Although no one, not even the queen, is supposed to go before the king without being summoned or they risk the penalty of death, she and her people fast and she does indeed go before the king with her plea. The outcome is amazing and this is a nice production which takes a little artistic license but remains faithful to the heart of this amazing Bible story.
Its themes of courage, love and devotion are timeless and to be appreciated and we gladly award this movie our Dove "Family-Approved" Seal. It is amazing and inspiring! It's a remarkable story about how one person can change the destiny of people.
Info
Company:
Sony Pictures Home Entertainment
Industry Rating:
Not Rated
Reviewer:
Edwin L. Carpenter