The Crazies
Theatrical Release:
February 26, 2010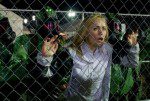 Synopsis
In a terrifying tale of the "American Dream" gone wrong, four friends find themselves trapped in their hometown in "The Crazies," a reinvention of the George Romero classic. David Dutton is sheriff of Ogden Marsh, a picture-perfect American town with happy, law-abiding citizens. But one night, one of them comes to a school baseball game with a loaded shotgun, ready to kill. Another man burns down his house after locking his wife and young son in a closet inside. Something is infecting the citizens of Ogden Marsh…with insanity. The few still sane find themselves trapped: Sheriff Dutton; his pregnant wife, Judy; Becca, an assistant at the medical center; and Russell, Dutton's deputy and right-hand man. Forced to band together, an ordinary night becomes a struggle for survival as they try to get out of town alive.
Dove Review
Effective January 1st, 2009, The Dove Foundation Review Team has ceased reviewing all NC-17 rated movies and certain extraordinarily explicit R-rated films. This decision was reached due to the fact that Dove reviewers are parents or grandparents with conservative values. As such, we feel that we can no longer expose these dedicated and caring people to movies that contain distasteful and appalling stories that are focused on graphic horror and violence, and/or gratuitous depictions of explicit sex and nudity.
"The Crazies" is considered to be such a film. Our report is therefore limited to the business information (title, rating, distributor, producer, director, actors, etc), synopsis, and the content chart.
Info
Writer:
Scott Kosar & Ray Wright
Reviewer:
Edwin L. Carpenter