Billy Owens and the Secrets of the Runes
DVD Release:
May 11, 2010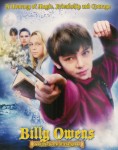 Synopsis
On this enchanting adventure Billy and his friends continue to learn about their mystical powers when the evil wizard Mr. Mould manipulates them into trapping Mr. Thurgood, their mentor's soul in an ancient amulet. Legend says that inserting the empowered amulet into a cursed scepter will unlock the vast powers and unworldly treasures of the evil Viking god Loki. After solving the mystery of the ancient runic symbols and recovering the cursed scepter from a subterranean labyrinth, our four young heroes are pursed by Mould and must battle an array of magical characters in order to reach the one place where Thurgood's soul may be released from imprisonment.
In this wild adventure, the power of friendship and teamwork will ultimately help the adventurers decide whether or not to sacrifice their own powers. The journey comes to an exciting climax as they fight to release their and the source of the scepter's power …a thousand Viking souls held captive for centuries.
Dove Review
Billy Owens and his friends practice white magic, meaning that they use it to do only good things. Here they face an adventure but this time they have to save their friend and teacher Mr. Thurgood from evil, the evil that Mr. Mould challenges them with. Each of the four friends have to use their special powers in this adventure and some are newly discovered powers.
There are many lessons in this movie such as not being greedy, working together, and being responsible. The kids must rescue the teacher's heart they love when he is taken away by an evil power. There is magic used in this fantasy film but the good guys use it to defeat the villains and are determined to prevail. We are pleased with the positive themes in the film and are happy to award this movie our Dove "Family-Approved" Seal. Billy Owens might become your child's hero!
Info
Starring:
Dalton Mugridge; Ciara O'Hanlon; Christopher Fazio; Mikayla Ottonello; Roddy Piper