Shes Out of My League
Theatrical Release:
March 12, 2010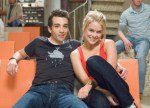 Synopsis
Kirk (Jay Baruchel, "Knocked Up," "Tropic Thunder"), an average Joe, can't believe his luck. Though he's stuck in a seemingly dead-end job as an airport security agent, against all odds Molly (Alice Eve), a successful and outrageously gorgeous babe falls for him. Kirk is stunned. So are his friends, his family and even his ex-girlfriend. Now he has to figure out how to make the relationship work, even though he's the first to admit "She's Out of My League."
Dove Review
Effective January 1st, 2009, The Dove Foundation Review Team has ceased reviewing all NC-17 rated movies and certain extraordinarily explicit R-rated films. This decision was reached due to the fact that Dove reviewers are parents or grandparents with conservative values. As such, we feel that we can no longer expose these dedicated and caring people to movies that contain distasteful and appalling stories that are focused on graphic horror and violence, and/or gratuitous depictions of explicit sex and nudity.
"She's Out of My League" is considered to be such a film. Our report is therefore limited to the business information (title, rating, distributor, producer, director, actors, etc), synopsis, and the content chart.
Info
Writer:
Sean Anders & John Morris
Reviewer:
Edwin L. Carpenter