Journey to Everest
DVD Release:
March 20, 2010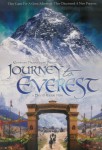 Synopsis
"Journey to Everest" follows the adventure of a team of six American businessmen who travel to the Himalayas to trek to Everest Base Camp. On their way into the mountains to begin their ascent, they had been bumped from a plane flight that crashes and kills 18 people. As they struggle with their decision of whether to continue on their trek, their faith comes into the fore as they experience the Hindu/Buddhist world of Kathmandu, Nepal, and face the challenges of the Everest Region, and discover the depths of who they are as Christians in a life-altering way.
Dove Review
This intriguing documentary takes on the adventure of eight Christians to the beautiful Mount Everest base camp. Travel with the group as they arrive in the city of Kathmandu, Nepal to start their journey to the tallest mountain on earth. As they prepare for the continuation of their journey they discover the culture that makes up this city and area of Nepal.
Containing many facts about this region of the world and the testimony of these adventurers, the viewer becomes aware of the beauty, the people, the religious beliefs of Kathmandu and our traveler's thoughts. As they endure the climate change and the dangers that face them, this group overcomes the challenges to reach their goal of the magnificent Mt. Everest Base Camp. A film that will put the viewer in awe of the discoveries on this miraculous journey. We award this wonderful documentary the Dove "Family-Approved" seal for all ages.
Info
Company:
Epiphany Documentary Films