Sex and the City 2
Theatrical Release:
May 27, 2010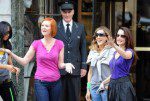 Synopsis
The fun, the fashion, the friendship: "Sex and the City 2" brings it all back and more as Carrie (Sarah Jessica Parker), Samantha (Kim Cattrall), Charlotte (Kristin Davis) and Miranda (Cynthia Nixon) take another bite out of The Big Apple–and beyond–carrying on with their busy lives and loves in a sequel that truly sparkles. What happens after you say "I do"? Life is everything the ladies ever wished it to be, but it wouldn't be "Sex and the City" if life didn't hold a few more surprises…this time in the form of a glamorous, sun-drenched adventure that whisks the women away from New York to one of the most luxurious, exotic and vivid places on earth, where the party never ends and there's something mysterious around every corner. It's an escape that comes exactly at the right moment for the four friends, who are finding themselves in–and fighting against–the traditional roles of marriage, motherhood and more. After all, sometimes you just have to get away with the girls.
Dove Review
The title of the movie gives away the main plot of the film. It is about sex and in this film it is talked about, practiced, and practiced loudly.
The original characters are back, as played by Sarah Jessica Parker, Kristin Davis, Cynthia Nixon, and Kim Cattrall. The movie is mainly geared toward women and includes men in tight fitting swim wear and a couple of scenes of rear male nudity. One female character meets a man at a wedding and soon is in bed with him.
New York City is the setting for much discontent: Carrie (Sarah Jessica Parker) is having problems involving Big (Chris Noth) whose main goal is to snuggle on their expensive couch.
Miranda (Cynthia Nixon) has a boss who is making her life miserable. Samantha (Kim Cattrall) is dealing with a fast-approaching menopause, and Charlotte (Kristin Davis) is going a bit crazy from the noisy moments she endures as a mother. Quiet her kids are not.
Unfortunately, other than a few moments of fairly clean humor, there is little reason to recommend this movie and it falls far short as one you can take the entire family to. We are unable to award our Dove "Family-Approved" Seal to this movie.
Info
Writer:
Michael Patrick King & Candace Bushnell
Reviewer:
Edwin L. Carpenter