Grown Ups
Theatrical Release:
June 25, 2010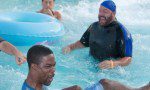 Synopsis
Sandler wrote the screenplay with "Dickie Roberts: Former Child Star" screenwriter Fred Wolf. The high-concept story is a comedy about five best friends from high school who reunite 30 years later on a Fourth of July weekend. The five actors have worked together on a number of comedies, though never all on the same project.
Dove Review
The joke in this movie is that the grown-ups, namely the characters played by Adam Sandler, Kevin James, David Spade and Chris Rock, are really big kids who act like juveniles when they get around each other. They like to ogle women, make jokes, hit each other and sometimes act on the gross side. Although there is some clean humor in it, you have to search hard. This is the kind of movie that in one scene focuses on a woman's rear and the viewer watches the guys' reactions. Intellectual minds will not be stimulated.
Despite a sense of brotherhood among the friends, this is definitely not a wholesome family movie. We recommend "Toy Story 3" or "The Karate Kid", both family-friendly films playing in your local theater right now.
Info
Company:
Columbia Tri-Star Pictures
Writer:
Adam Sandler & Fred Wolf
Reviewer:
Edwin L. Carpenter