Salt
Theatrical Release:
July 23, 2010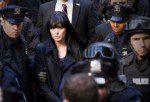 Synopsis
As a CIA officer, Evelyn Salt (Jolie) swore an oath to duty, honor and country. Her loyalty will be tested when a defector accuses her of being a Russian spy. Salt goes on the run, using all her skills and years of experience as a covert operative to elude capture. Salt's efforts to prove her innocence only serve to cast doubt on her motives, as the hunt to uncover the truth behind her identity continues and the question remains: "Who Is Salt?"
Dove Review
A major mystery in this action-packed drama is this: Is Evelyn Salt (Angelina Jolie) a Russian mole, a C.I.A. agent or does she fall somewhere in between? One thing is for sure, Jolie plays her with a vengeance. The word "ferocity" comes to mind. She also poses provocatively on occasion, while in the heat of battle, which is a bit distracting to the male enemies she fights.
This is one of those movies which are fast paced. It is long on action, chases, car crashes, and the like, and a bit short on character development. Although the question of one's loyalty to his country may cause the viewer to internalize the question, the main news for our Dove readers is that the film contains strong language and violence. There is not a lot of blood, but enough of it along with a lot of violent moments in this one hundred minute feature film, that we are unable to award our Dove "Family-Approved" Seal to the movie as a family-friendly film.
Info
Company:
Columbia Tri-Star Pictures
Reviewer:
Edwin L. Carpenter