Cats and Dogs:The Revenge of Kitty Galore
Theatrical Release:
July 30, 2010
DVD Release:
November 16, 2010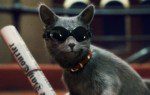 Synopsis
In the age-old battle between cats and dogs, one crazed feline has taken things a paw too far. Kitty Galore, formerly an agent for cat spy organization MEOWS, has gone rogue and hatched a diabolical plan to not only bring her canine enemies to heel, but take down her former kitty comrades and make the world her scratching post. Faced with this unprecedented threat, cats and dogs will be forced to join forces for the first time in history in an unlikely alliance to save themselves – and their humans – in "Cats & Dogs: The Revenge of Kitty Galore," a comedy that blends live action with state-of-the-art puppetry and computer animation. It's time for the fur to fly.
Dove Review
I was pleasantly surprised to hear a few lines in this film which caused me to laugh out loud, something I don't do all the time at the movies. The adults can enjoy this one as well as the kids. At a center for the dogs in this movie, a friendly voice on the intercom congratulates a canine for the birth of his son, daughter, son, son, daughter…so, you get the idea.
The movie is visually funny too as one scene shows a dog named Diggs, a main character, acting in a disoriented state including his tongue hanging out after an unexpected speedy ride. In one scene we learn that a screening of "Scooby-Doo" is sold out! There are a few cat fights, literally, and the dog and cat heroes and heroines find themselves in perilous situations on several occasions. The action is often and quick and the main theme of the story is that Kitty Galore plans to unleash an ultra-high pitch from a satellite which will render both humans and dogs mad.
The good guys…uh, dogs and cats, race against the clock to stop her and her cohorts. The final showdown takes place at an amusement park and with a carousel that might actually be a satellite. The film contains a lot of fantasy and slapstick action and violence, and other than a few "butt sniffing" comments, nothing which should be of any real concern to parents. We are recommending the movie for all ages, with a note that it contains one mild innuendo and the fantasy action and violence scenes. Parents that are not sure about taking their children under twelve years of age should consult our content listing below.
For a few good laughs and amazing special effects at the movies, this is the one to see! We happily award our Dove "Family-Approved" Seal to this film.
Info
Writer:
Ron J. Friedman & Steve Bencich
Reviewer:
Edwin L. Carpenter