The Switch
Theatrical Release:
August 20, 2010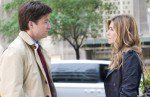 Synopsis
Jennifer Aniston stars alongside Jason Bateman in this offbeat comedy as Kassie, a smart, fun-loving single woman who, despite her neurotic best friend Wally's (Bateman) objections, decides it's time to have a baby — even if it means doing it by herself . . . with little help from a charming sperm donor (Patrick Wilson). But, unbeknownst to her, Kassie's plans go awry because of a last-minute switch that isn't discovered until seven years later when Wally finally gets acquainted with Kassie's cut — though slightly neurotic — son.
Dove Review
With a cast of believable characters, this romantic comedy is filled with charm and some pretty funny scenes. Jason and Jennifer make the best of this film about two friends that don't see what is really in front of them and their relationship. Jennifer's character Kassie worries that her biological clock is ticking and her best friend Wally, played by Jason tries to talk her out of her choice to become pregnant. But when Kassie finds a donor, Wally does not take it well and accidentally spills the vial in the sink and then replaces its contents (fortunately, this takes place off screen).
I was amazed that although they keep the vivid details of artificial insemination to a minimum and the donors participation off screen, they felt that it was important to show full rear nudity of a man in a play then show the front although they did blurr his privates. The topic of this movie was a little uncomfortable for some people. Due language, drug use and nudity this movie can not be family approved.
Content Description
Violence:
Discussion regarding a young boy being bullied; Boy with cut lip and bloody scratches on face from a fight
Sex:
Artificial insemination; Discussion regarding getting pregnant; Shopping for a sperm donor; Man replaces vial with his own sperm
Violence:
Discussion regarding a young boy being bullied; Boy with cut lip and bloody scratches on face from a fight
Drugs:
Party scenes with people drinking; Main character gets intoxicated; Comments regarding drug dealer; A 'Doctor" smoking a joint; Woman attempts to smoke a cigarette; Woman gives man pills that she took from mother suggest that they are herbal; Conversation regarding having a drinking problem
Nudity:
Many scenes with cleavage; rear nudity of man in a play; Blurred front nudity of man in play; Man in boxers; Young boy in underwear; Statue of a very large nude woman
Info
Director:
Josh Gordon and Will Speck