Resident Evil Afterlife (3-D)
Theatrical Release:
September 10, 2010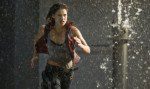 Synopsis
In a world ravaged by a virus infection, turning its victims into the Undead, Alice continues on her journey to find survivors and lead them to safety. Her deadly battle with the Umbrella Corporation reaches new heights, but Alice gets some unexpected help from an old friend. A new lead that promises a safe haven from the Undead takes them to Los Angeles, but when they arrive the city is overrun by thousands of Undead — and Alice and her comrades are about to step into a deadly trap.
Dove Review
Effective January 1st, 2009, The Dove Foundation Review Team has ceased reviewing all NC-17 rated movies and certain extraordinarily explicit R-rated films. This decision was reached due to the fact that Dove reviewers are parents or grandparents with conservative values. As such, we feel that we can no longer expose these dedicated and caring people to movies that contain distasteful and appalling stories that are focused on graphic horror and violence, and/or gratuitous depictions of explicit sex and nudity. "Resident Evil: Afterlife" is considered to be such a film. Our report is therefore limited to the business information (title, rating, distributor, producer, director, actors, etc), synopsis, and the content chart.
Info
Company:
Sony/Screen Gems
Reviewer:
Edwin L. Carpenter