Devil
Theatrical Release:
September 17, 2010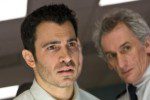 Synopsis
A group of people, including a formerly alcoholic homicide detective (Messina), trapped in an elevator discover that one of them is the devil. Written and produced by M. Night Shyamalan.
Dove Review
I will give this movie one thing in its favor. It is suspenseful. For a long while the viewer doesn't know if one of five stranded people in an elevator is a murderer or if the devil is involved. Every time the lights in the elevator go off someone dies until just two people are left. The answer to who is responsible comes by film's end. I was a bit pleasantly surprised too that the movie included themes of accountability for one's actions and a character who is able to forgive a man who committed a great wrong which caused him a lot of pain and grief.
Still, this is by no means a family-friendly film. A graphic scene of a woman hanging is included as is some other violent scenes which feature blood and stabbings. There are several profanities in the movie as well. Due to the violent nature of the film we are unable to award our Dove "Family-Approved" Seal to this film.
Info
Company:
Universal Pictures
Writer:
Brian Nelson & M. Night Shyamalan
Director:
Drew Dowdle & John Erick Dowdle
Reviewer:
Edwin L. Carpenter