Fathers Love Letter: An Intimate Message from God to You
DVD Release:
May 12, 2009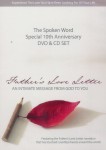 Synopsis
"Father's Love Letter" was first presented as a sermon illustration in January 1999 at a church in Canada. The collection of paraphrased Bible verses assembled in the form of a love letter has since been translated in 90+ languages and experienced by millions of people around the world via the Internet. This special 10th Anniversary DVD & CD set features the narration version of the Father's Love Letter in both DVD video and CD audio formats along with a collection of other inspirational recordings all created to draw you closer to the Father's heart.
Dove Review
This is a fantastic and I must add inspired DVD. Close to fifty scriptures are quoted and paraphrased in modern language by a soothing-voiced narrator. Straight from the Bible we hear God's thoughts toward us as a loving Father. We are told that he knew us before our birth and he chose the time of our birth. He tells us He is the complete expression of love and our provider and his plans include giving us a future and a hope. Scriptures from all over the Bible are used including the Old and New Testaments.
There are several brief videos including the main Father's love video, and a longer version and one video which features only the soundtrack music. There is also a video which centers on Barry Adams, the author of "Father's Love Letter", and he explains the origins of the book and music and DVD. Included is a CD with the narration and soundtrack from the DVD. These videos will encourage the viewer and listener, whether they utilize the DVD or CD or both. Bright and vivid images of color are incorporated in the videos which include sunrises, sunsets, flowers and beautiful images of nature.
We highly recommend this DVD as it will build many people up spiritually and encourage them to look to God as their Father and for His guidance and strength. We gladly award our Dove "Family-Approved" Seal to this combination DVD/CD set for all ages, and we award it five Doves, our highest level of rating.
Info
Company:
Crown Entertainment
Starring:
Narrated by: Roy Lamont
Reviewer:
Edwin L. Carpenter