Twelve Angry Men 1957
Theatrical Release:
September 20, 1994
DVD Release:
March 6, 2001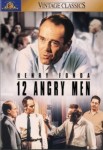 Synopsis
A Puerto Rican youth is on trial for murder, accused of knifing his father to death. The twelve jurors retire to the jury room, having been admonished that the defendant is innocent until proven guilty beyond a reasonable doubt. Eleven of the jurors vote for conviction, each for reasons of his own. The sole holdout is Juror #8, played by Henry Fonda. As Fonda persuades the weary jurors to re-examine the evidence, we learn the backstory of each man. Juror #3 (Lee J. Cobb), a bullying self-made man, has estranged himself from his own son. Juror #7 (Jack Warden) has an ingrained mistrust of foreigners; so, to a lesser extent, does Juror #6 (Edward Binns). Jurors #10 (Ed Begley) and #11 (George Voskovec), so certain of the infallibility of the Law, assume that if the boy was arrested, he must be guilty. Juror #4 (E.G. Marshall) is an advocate of dispassionate deductive reasoning. Juror #5 (Jack Klugman), like the defendant a product of "the streets," hopes that his guilty vote will distance himself from his past. Juror #12 (Robert Webber), an advertising man, doesn't understand anything that he can't package and market. And Jurors #1 (Martin Balsam), #2 (John Fiedler) and #9 (Joseph Sweeney), anxious not to make waves, "go with the flow." The excruciatingly hot day drags into an even hotter night; still, Fonda chips away at the guilty verdict, insisting that his fellow jurors bear in mind those words "reasonable doubt."
Dove Review
This is a fantastic and tension filled drama. Henry Fonda is in great form as juror eight, named Davis, who stands against eleven other jurors in his conviction that a young man charged with murdering his father is innocent. One by one, he turns the dissenters to his way of thinking. Does he completely succeed? You will have to watch it to find out. The content arena is pretty wholesome, as this film was made in 1957. It may be a bit mature for viewers under twelve, so we recommend it for ages twelve and above.
Info
Company:
20th Century Fox Home Ent.
Reviewer:
Edwin L. Carpenter