Wall Street: Money Never Sleeps
Theatrical Release:
September 24, 2010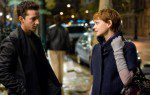 Synopsis
Shia LaBeouf stars with Michael Douglas, who'll reprise his Gordon Gekko role. Langella will play Lewis Zabel, an old-time broker who mentors LaBeouf's character, a young Wall Street broker.
When Gekko comes out of prison, he essentially has to redefine himself, redefine his character, he's looking for that second chance.
LaBeouf portrays Jake Moore, who is the fiancé of Gekko's daughter, played by Carey Mulligan; Josh Brolin as the head of an investment bank; and Susan Sarandon as Jake's mother. Charlie Sheen, who played the central role of Bud Fox, a young trader, in the original, will make a cameo in the sequel.
Dove Review
This movie, apart from not being a family-friendly film due to language and its sexual content, falls short in that the most interesting character, Gordon Gekko (Michael Douglas), isn't in it for several scenes and although Shia LaBeouf and Josh Brolin are fine actors, the story just doesn't give them enough interesting moments. Their characters, despite being used a lot, feel underdeveloped in the story.
When Gekko does appear he holds your attention. One never knows whether or not he is making pleasant conversation or leaving subtle hints as to his intentions. He is an interesting character to be sure.
At any rate, we are unable to award our Dove "Family-Approved" Seal to this film but we recommend "You Again" which is playing this weekend, which is a good one for the adults and funny without being unfriendly toward family audiences.
Info
Company:
20th Century Fox
Writer:
Allan Loeb & Stephen Schiff
Reviewer:
Edwin L. Carpenter