The Social Network
Theatrical Release:
October 1, 2010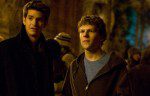 Synopsis
On a fall night in 2003, Harvard undergrad and computer programming genius Mark Zuckerberg sits down at his computer and heatedly begins working on a new idea. In a fury of blogging and programming, what begins in his dorm room soon becomes a global social network and a revolution in communication. A mere six years and 500 million friends later, Mark Zuckerberg is the youngest billionaire in history… but for this entrepreneur, success leads to both personal and legal complications.
Dove Review
This movie is clever in spots. I will give it that. Clever dialog and intelligent writing results in some laughs for the audience. The audience I screened it with the day before opening day laughed heartily on more than one occasion. In one case, Mark Zuckerberg (Jesse Eisenberg), notices an advertisement on a screen for the Caribbean and comments "Niagara Falls has nothing to do with the Caribbean," which gives it away that a clip of the famous falls is being used at the moment. If the movie is truly accurate, then the origins of Facebook are a bit muddled, with four people involved in its genesis with one main propelling force, Mark Zuckerberg, who faces lawsuits from the other three for either stealing the idea or, in one case, cutting his friend off at the legs when it came to the profits. It's interesting to note that Facebook is now valued at 25 billion dollars!
However, despite the interesting juxtaposition of the people involved with Facebook from the beginning, the film is not family friendly. The use of drugs, a lot of drinking, sex outside of marriage, and strong language all are in the forefront of this one, which means those seeking family-friendly films may want to watch "You Again" this weekend instead of this movie, which veers far from the straight and narrow path.
Info
Company:
Columbia Tri-Star Pictures
Writer:
Aaron Sorkin & Ben Mezrich
Reviewer:
Edwin L. Carpenter