Its Kind of a Funny Story
Theatrical Release:
October 8, 2010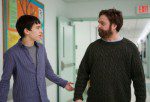 Synopsis
16-year-old Craig (Gilchrist), stressed out from the demands of being a teenager, checks himself into a mental health clinic. There he learns that the youth ward is closed – and finds himself stuck in the adult ward. One of the patients, Bobby (Galifianakis), soon becomes both Craig's mentor and protege. Craig is also quickly drawn to another 16-year-old, Noelle (Roberts). With a minimum five days' stay imposed on him, Craig is sustained by friendships on both the inside and the outside as he learns more about life, love, and the pressures of growing up. Davis will play Dr. Minerva, the adult ward's staff psychiatrist; Kravitz will portray Nia, Craig's longtime crush; Mandvi is cast as Dr. Mahmoud, a hospital psychiatrist; and Graham and Gaffigan play Craig's parents, Lynn and George.
Dove Review
Keir Gilchrist plays young Craig, a teenager who battles depression and checks himself into a hospital for help and winds up with adults in a psychiatric ward. Some of this is played for laughs and some viewers will not appreciate the humor that is displayed regarding suicidal thoughts and the "nut job" comment made to one character. Craig must be observed for a minimum of five days and a few scenarios play out such as Craig thinking a fellow patient named Bobby (Zach Galifianakis) is a doctor. When a girl who also suffers from depression takes a liking to him some good moments (but not enough) occur in the film. What could have been a good family film which relates to those who suffer depression and suicidal thoughts instead is played for laughs, with frank sexual comments, language and drugs taking center stage.
Due to the aforementioned content, we regret we cannot award our Dove "Family-Approved" Seal to this film. "It's Kind of a Funny Story" is, in reality, not so funny after all.
Info
Writer:
Anna Boden & Ryan Fleck
Director:
Anna Boden & Ryan Fleck
Reviewer:
Edwin L. Carpenter