Hereafter
Theatrical Release:
October 22, 2010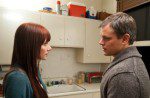 Synopsis
A drama centered on three people who are haunted by mortality in different ways. George (Damon) is a blue-collar American who has a special connection to the afterlife. On the other side of the world, Marie (de France), a French journalist, has a near-death experience that shakes her reality. And when Marcus (Frankie/George McLaren), a London schoolboy, loses the person closest to him, he desperately needs answers. Each on a path in search of the truth, their lives will intersect, forever changed by what they believe might-or must-exist in the hereafter.
Dove Review
Here is another film from Clint Eastwood, who now directs films more then he acts in them. He takes the director's chair based on an original screenplay by British docu-dramatist Peter Morgan ("The Queen", "Frost/Nixon"). This story is about intersecting lives and, as the title of the film implies, the hereafter. Unfortunately, a biblical view is not taken in the movie and a psychic as well as fake psychics take over for the most part.
As a movie, "Hereafter" packs some action within the first five minutes. A tsunami arrives on a bright blue morning to wreak havoc in paradise on a Pacific island beach. This leads to a scene involving an attractive French telejournalist (Cécile de France) and her near-death experience in Hawaii, in addtion to a story about an impish12-year-old British schoolboy (George McLaren) with a substance-abusing mother and their story which invovles a terrible loss. Finally, we have a depressed, Dickens-loving psychic named George (Matt Damon) who delves into occult powers to read minds and channel the dead. Family friendly this is not.
"It's not a gift; it's a curse!" cries George, This movie could have been a gift, but with its look inside the world beyond death it sadly passes over the Bible as its guide and its use of the occult along with violence and strong language prevents us from being able to award the movie our Dove Seal as a family-friendly film.
Info
Reviewer:
Edwin L. Carpenter