Due Date
Theatrical Release:
November 5, 2010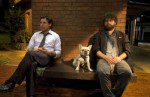 Synopsis
Robert Downey Jr. plays an expectant father who finds himself on a road trip with a mismatched partner, as he races to get there before his wife (Monaghan) gives birth to his first child. Galifianakis plays his road trip mate in a comedy that Phillips calls "a buddy comedy without the buddies."
Dove Review
This is a movie about a pair of completely dissimilar people, who are forced by circumstance to travel a long distance together. The two main characters go through several situations together, some awkward, and eventually realize they are buddy material for each other.
Robert Downey plays a character named Peter Highman, an outgoing architect trying to get from Atlanta to L.A. in time for his wife's (Michelle Monaghan) scheduled C-section. Zach Galifianakis plays Ethan Tremblay, a would-be actor with a perm who has his deceased father's ashes with him in addition to an over-sexed French bulldog. He also enjoys getting high on marijuana and unfortunately is shown doing so on more than one occasion.
The film has some comic moments which a family could laugh at together, but unfortunately, due to the strong sexual content and the equally strong language and drug use, we cannot recommend this movie as a family-friendly film, let alone award our Dove Seal to it. Check out "Megamind" this weekend. It is both funny and family friendly.
Info
Writer:
Alan R. Cohen & Alan Freedland
Reviewer:
Edwin L. Carpenter