Trim and Toned in 20: Tonya Larson
DVD Release:
November 1, 2010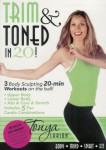 Synopsis
This versatile workout DVD delivers three different 20-minute action packed segments; Upper Body, Lower Body, Abs & Core & Stretch. These segments provide body-sculpting, fun fat-burning cardio combinations, and targeted abdominal and core work. They can be done individually or combined to create a more intense workout. All three segments provide the intensity necessary to see real results working out for only 20-minutes by increasing and decreasing your heart rate and focusing on multiple muscle groups at once. Tonya utilizes the stability ball as a tool to add creativity to this workout with the goal of targeting the core, resulting in stronger leaner abs.
Trim & Toned in 20 also meet the needs of all exercise levels from beginner to the advanced student. There is a modifier present throughout the workout showing lower-impact, less challenging versions of each exercise.
This DVD includes Spiritual Warm-Up Stretch Bonus Segment. Proverbs 14:30 says that "A heart at peace gives life to the body." With this in mind, Tonya developed a relaxing stretch segment including scripture meditation that focuses on peace with our circumstances, peace with others, peace with us, and peace with God.
Dove Review
Tonya Larsen will help you trim and tone your body in this DVD. Tonya not only helps with the physical workout but has a spiritual warm-up with the Bible verse of Proverbs 14:30 that will aid in the emotional and mental state of your well being. Here is an enjoyable way to get into a healthy routine for your body and soul.
We award the Dove "Family-Approved" Seal for all ages to this wonderful DVD.