The Chronicles of Narnia: Voyage of the Dawn Treader
Theatrical Release:
December 10, 2010
DVD Release:
April 8, 2011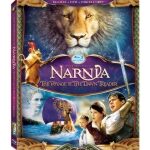 Synopsis
This time around – Edmund and Lucy Pevensie, along with their pesky cousin Eustace Scrubb – find themselves swallowed into a painting and on to a fantastic Narnian ship headed for the very edges of the world. Joining forces once again with their royal friend Prince Caspian and the warrior mouse Reepicheep, they are whisked away on a mysterious mission to the Lone Islands, and beyond. On this bewitching voyage that will test their hearts and spirits, the trio will face magical Dufflepuds, sinister slave traders, roaring dragons and enchanted merfolk. Only an entirely uncharted journey to Aslan's Country – a voyage of destiny and transformation for each of those aboard the Dawn Treader – can save Narnia, and all the astonishing creatures in it, from an unfathomable fate.
Dove Review
This is one voyage you don't want to miss! Return to Narnia and enjoy this third fantastic film in the Chronicles of Narnia movie series. The action is plentiful and the characters are delightful. This time only Edmund and Lucy return to the fantastic and enthralling land of Narnia, minus Peter and Susan, although they are briefly seen in the film. But Edmund and Lucy have one additional passenger, their cousin Eustace Scrubb, who provides some genuinely funny comic relief. His character also grows and undergoes some changes for the better as the story progresses.
Other favorites are back such as Reepicheep and Caspian. This time Caspian is a king and not a prince. And, of course Aslan returns at just the right time; wonderfully voiced by Liam Neeson. The special effects are amazing and the adventures aboard the Dawn Treader are breath-taking. There are a few surprisingly intense battles, but nothing gratuitous. The themes of forgiveness and sacrifice are clearly depicted in the movie.
We are pleased to award our Dove "Family-Approved" Seal to this terrific film! Return to Narnia and allow the wonderful characters, music and locations to take you away to a fantastical world that delights the imagination!
Info
Company:
20th Century Fox - Walden Media
Reviewer:
Edwin L. Carpenter