Enchanted Tales: Anastasia
DVD Release:
December 1, 2010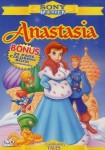 Synopsis
For the young Russian Princess Anastasia, life is a fairy tale of royal palaces, fabulous wealth and all the other privileges that go with being the cherished daughter of the mighty Czar Nicholas. But Anastasia's perfect world changes forever when the evil monk Rasputin pretends to befriend her family – while secretly plotting to topple the Czar from power. What's more, Anastasia has fallen in love with the dashing young soldier, Alexander, in the aftermath of Rasputin's betrayal of her beloved family. Anastasia loses all memory of her true identity. Aided by Alexander, the young princess flees for her life -and embarks on a thrilling adventure beyond anything she could have imagined! Brought to life with beautiful animation and memorable songs, this "Enchanted Tale" spins a breathtaking story of royal intrigue, romance and thrills for the entire family!
Dove Review
The story of the Russian Princess Anastasia has been a classic for many years. The story is about a young girl that is brought up in the family of Russian royalty. But because of the times and misfortune of the people there, a revolt is at hand that will destroy the Czar and his family. Somehow with help the heroine of the tale, Anastasia, escapes the demise of the rest of her family.
"Enchanted Tales" are illustrated with great color and wonderful music to enhance the story. Although this is a classic tale of true love and loyalty, some of the story may frighten younger children. This DVD,"Enchanted Tales: Anastasia", is awarded the Dove "Family-Approved" Seal for all ages.
Info
Company:
The Garr Group, Inc
Industry Rating:
Not Rated